10 Tips for the Best Garage Sale Ever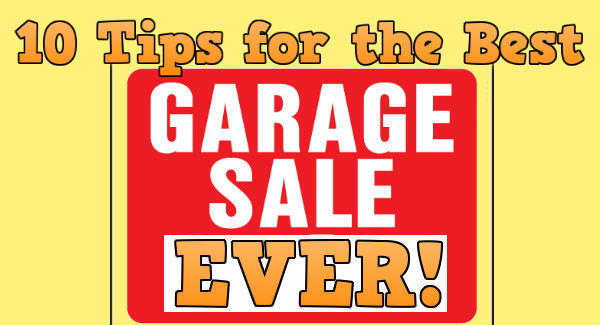 Clear out your old stuff, make some money, and put on the best garage sale in the neighborhood with these can't-miss tips.
Team up with your neighbors.
Multi-family garage sales offer a wider selection to shoppers, drawing bigger crowds. Ask your neighbors to see if you can combine sales, or even turn your yard sale into a block sale to attract more buyers.
Advertise, advertise, advertise.
Nobody will come to your garage sale unless they know about it. First, email everyone you know. Then advertise in your local newspaper, Craigslist, and Facebook. Also look for local bloggers and garage sale websites who may help spread the word.
Put up plenty of signs.
A few days before your garage sale, post large easy-to-read signs at all major intersections nearby. Attach balloons to draw attention, and make sure the arrows are pointing clearly toward your yard.
Mark your prices clearly.
One of the fastest ways to lose a sale is to leave an item unmarked. Some shoppers won't bother to come ask you about prices, and will instead just move on. Put a price on everything.
Set up as many sturdy tables as possible.
The more tables you have available, the easier it is for shoppers to find (and buy) what they want. Remember to set up an extra table just for purchases.
Get more change than you think you need.
Many shoppers will use large bills to pay for small items, so you'll need to make plenty of change. Stock up on small bills and coins well before the sale.
Get ready the night before.
No matter what time you plan to start your garage sale, you can expect to have shoppers show up an hour early. Make it easier to get started by sorting and pricing everything the night before, so you can just carry it out and set it up in the morning.
Bring everything out into the sunshine.
Don't make the mistake of leaving heavy or expensive items in your garage. Bring them outside, where the shoppers are browsing.
Offer lemonade, balloons, even face painting.
The more your garage sale feels like a fun family event, the more people will stick around and buy. Selling bottled water, hot dogs, or balloons isn't only fun, it can also put a few extra dollars in your pocket.
Offer an end-of-day clearance sale.
Most garage sales end between 2 PM at 4 PM. Shoppers who come later in the day are looking for a real bargain. Put up a sign advertising everything at 50% off, and watch the deal hunters snap up the remainders. That way, you won't have to haul them back into your garage.