Falling Oil Hurting Home Prices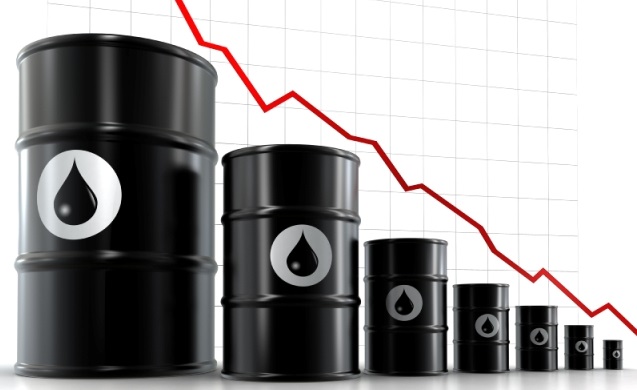 The price of oil continues to fall and is being felt throughout the world's economy. In just a matter of days financial markets, and investors have ditched their oil commodities for more stable assets. But the fall of oil won't have small parse effects on the economy, it will have larger consequences. Lower spending on energy could spark a surge in consumer spending, and could influence the housing market nationwide.
Many analysts are recognizing that cheaper oil prices, which continues to look like it will drop, could begin a trend that leads all the way to the price of a house. Trulia Chief Economist Jed Kolko while looking at the historical data between home prices and oil reacted by saying,
"Oil prices have plunged from over $100/barrel in July 2014 to around $50/barrel in early January 2015, threatening oil-producing economies around the world. Within the U.S., big oil price drops have historically been associated with job losses and falling home prices in energy-producing regions.  In particular, plummeting oil prices in the 1980s were followed by declines in employment and home prices in Houston, Oklahoma City, Tulsa, New Orleans, and other nearby markets."
Most of the markets where the price of oil changed the most and includes the most oil-related jobs where in the South. Among the largest of these was Houston, which saw a 13.4% year over year price change, and includes 5.6% of the population with jobs in the oil industry.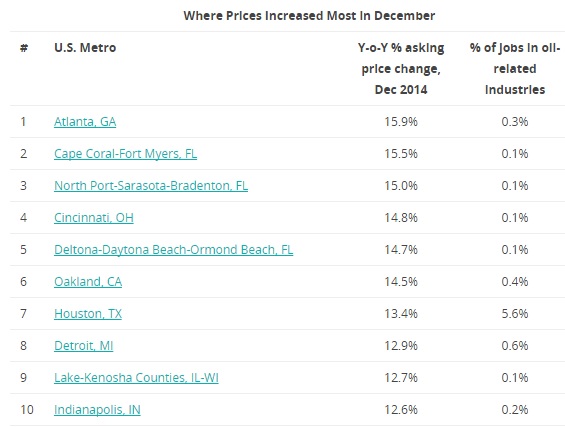 From the top 10 markets four where from the Midwest which included cities like Detroit, Indianapolis and Cincinnati, but some of the small metros are feeling the most hurt. Bakersfield and Baton Rouge have some of the highest oil-related employment percentages in the area at 2%, but the smallest cities like Williston, ND and Midland, TX have oil related industry employment numbers nearing 30% or higher. When you map out the correlation between oil related jobs and home prices you can see markets are swinging left and right.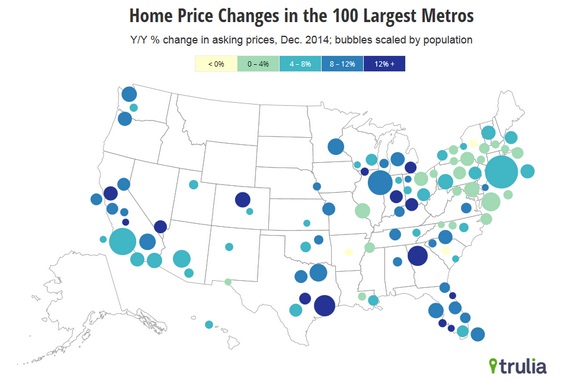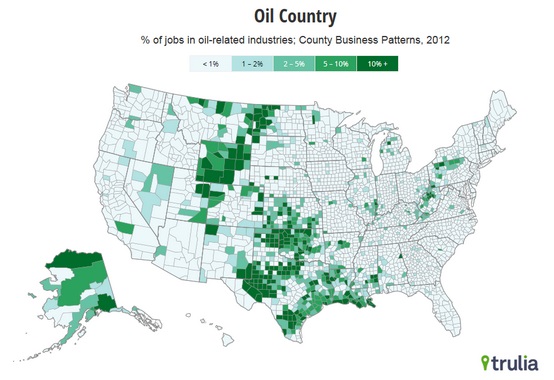 From the maps above, you can probably see some of the correlation, especially in the south. Many of the cities on these maps saw changes greater then the national average of 7.7%. Home prices in these areas could well be primed to fall further if the energy companies in the region continue to see falling oil prices. The good news is cheaper oil cost less to heat a home, and could help boost non-real estate industry local economies, which could lead to more buyers for properties. Only time will tell.