8 Hidden Costs of Selling Your Home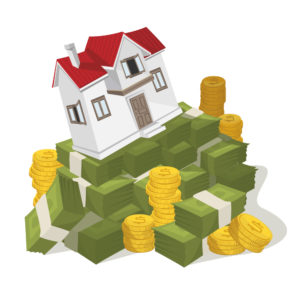 How much does it cost to sell a house?
Probably more than you expect. Selling fees can be 10 percent of the sale price of a home, according to Bankrate.com, and can sometimes go much higher. To avoid a case of home-selling sticker shock, watch out for these eight hidden costs of selling a house.
Real Estate Agent Commission
As a seller, the real estate commission is usually your biggest expense. It is shared between the buyer's agent and the seller's agent, and it averages about 6 percent of the sale price. If you're selling a typical $275,000 home, you could be on the hook for $16,500 in commission fees.
Home Repairs
To get top dollar for your home, it's best to spruce the place up before hanging that "For Sale" sign. Nationwide, the average cost to paint a home interior is $1750. Add in the cost of carpet cleaning ($174), house cleaning ($165), window washing ($208), window treatment cleaning ($232), and exterior power washing ($282), and you could be looking at several thousand dollars in unexpected expenses.
Maintenance Expenses
Nearly every home needs innumerable small repairs before it's ready to sell. Carpet stains, loose doorknobs, cracked windows, and other fix-ups can add hundreds (even thousands) of dollars to your selling costs.
Landscaping Costs
The right landscaping can boost your selling price by as much as 12 percent, according to a landscaping study by Virginia Tech. The average cost to completely overhaul your landscaping is more than $3300. At a minimum, have your existing landscaping trimmed and manicured.
Staging Costs
According to a recent survey from the National Association of Realtors, the average home staging costs $675. Also remember that while your staged home is on the market, you'll need to continue paying for utilities, which can add hundreds of dollars to your selling expenses.
Home Inspection and Home Appraisal Cost
It's easy to confuse home appraisals with home inspections, but they are actually two different things.
Appraisers generally look at the factors that affect the value of the home. For that reason, home appraisals (average cost: $325) are usually paid for by the lending institution.
Home inspectors, on the other hand, look for structural problems in the home. Usually, the cost of the home inspection is borne by the buyer, but in some cases the seller may be asked to pay for it. The average cost for a home inspection is about $350.
Closing Costs
What are closing costs on a house? Typically, these costs include property taxes, title insurance, transfer taxes, HOA fees, an escrow fee, and various legal fees. The buyer will usually pay the closing costs, which amount to 2 percent to 5 percent of the sale price, on average.
Mortgage Payoff Fees
After you sell your home, the proceeds first go toward paying off your mortgage. But because of prorated interest, you may end up paying more than the total amount listed on your mortgage statement. Additionally, your lender may sock you with a prepayment penalty.
Know How Much It Will Cost to Sell Your Home
Before you put your house on the market, take the time to research the costs, so you can be prepared. If you want to avoid spending too much money, you can sell your house now as-is. Find out how much you can save on closing costs and other home-selling expenses with a free quote from HomeVestors.