You're Selling Your House Wrong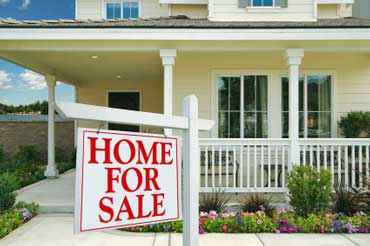 Selling your home isn't easy. But if your house has been sitting on the market without getting any offers, you're probably doing something wrong. Make any one of these common house-selling mistakes, and your home isn't likely to sell anytime soon. Here's your guide to the warning signs, and how to fix them.
Your Decor Is All About You

Photo credit
One of the most common seller mistakes is leaving too many personal belongings in plain sight. When shoppers view your home, they don't want to be reminded of the current resident (you). They want to imagine themselves living in this house.
The solution is all about proper staging. Take down any overly personal items such as photos or family heirlooms. Remove old or worn furniture. Stage each room to look simple, neutral, and as inviting as possible.
Your Interior Is Hopelessly Out of Date
Even if your house doesn't have shag carpets and wooden paneling, the interior still may be outdated by modern standards.
Kitchens and bathrooms are the most common offenders, but remodeling those areas can be prohibitively expensive. Still, you can improve the look of your interior with a few quick fixes, such as new light fixtures and window treatments. Look for other lower-cost projects that will fit in your budget. At a minimum, repaint the entire interior and replace the carpet.
You Have Pets (and Buyers Can Smell Them)

Photo credit
Few things turn off buyers faster than pet odors. Barking dogs are another big no-no.
Don't think you can just shut your pets in one room during the showing, because it will leave a negative impression on buyers. Instead, plan on taking your pets to a kennel or asking a friend to sit them. If possible, have your pets stay elsewhere until your home sells.
Your Landscaping Leaves Something to Be Desired
While experts disagree on exactly how much value your landscaping adds to your home, one thing is clear: curb appeal is crucial. Selling a home with shaggy shrubbery and a yellowed yard means you'll be leaving money on the table.
At the very least, get rid of all weeds and keep the lawn mowed, edged and watered. Prune trees if possible. Put in a few lights for nighttime showings. To add color, plant or pot some blooming flowers near the front door.
You're Selling the House Yourself
Putting up a "For Sale by Owner" sign could be working against you. While you may save a significant amount of money (the typical selling agent's commission is $10,000-$20,000 for a median home), you're also making it much tougher to sell your house.
That's because your property won't be listed on the Multiple Listing Service (MLS), where real estate agents look for properties for sale. Worse, most agents won't show your home to their clients, since they know they won't get a commission on the sale.
Avoid the "Why Isn't My House Selling?" Trap
While there's no sure-fire way to guarantee your home will sell quickly, you can take steps to stack the odds in your favor. Properly stage your home, update your interior, move your pets elsewhere, and spiff up your landscaping.
If you are unable to commit the time and money that it will take to sell your house for top dollar you can sell your home to HomeVestors as is for cash today.