Ugliest House Of The Year
HomeVestors Donates $20,000 To Build Affordable Homes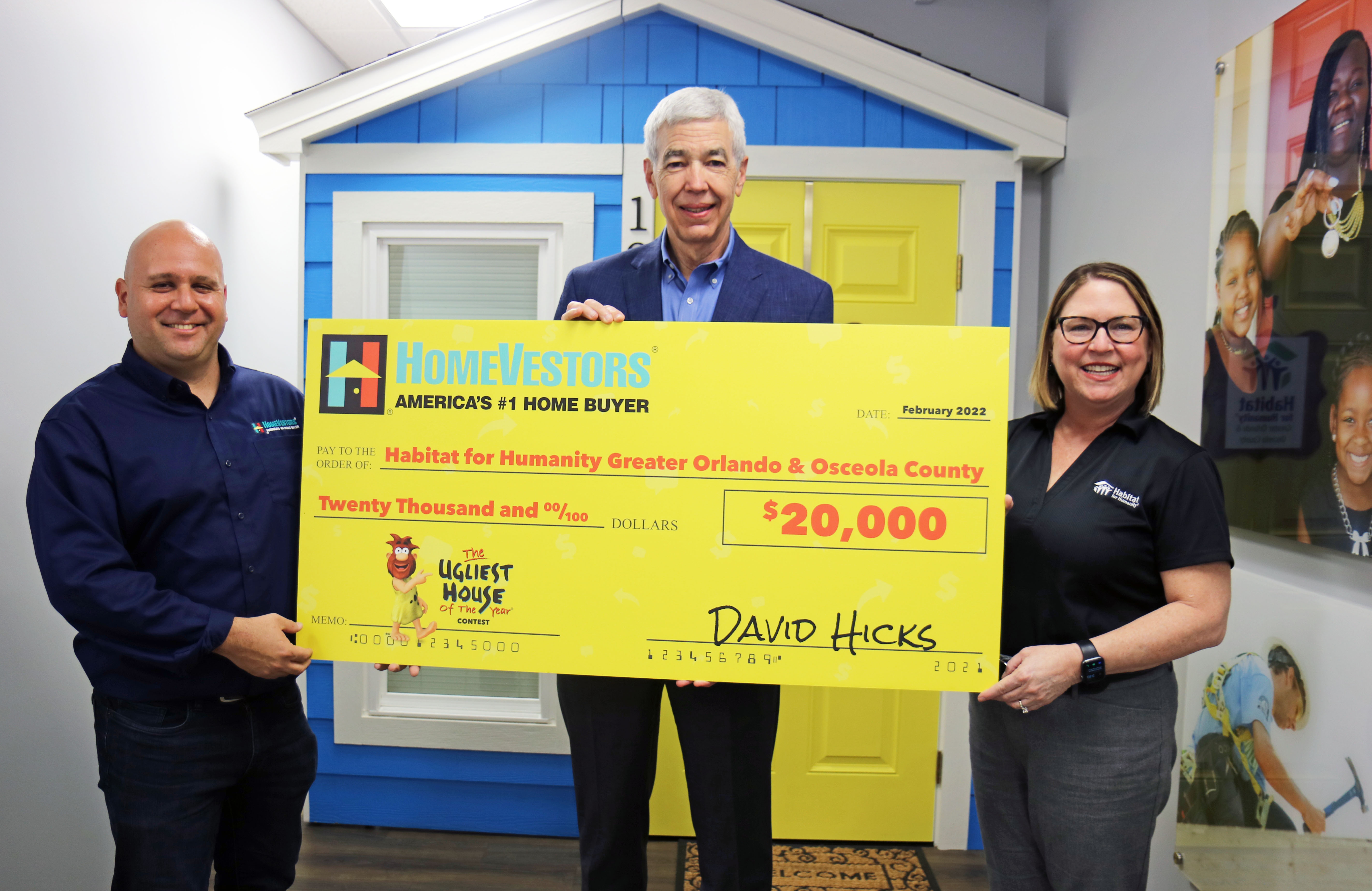 It all came down to 1 house.

One house out of nearly 10,000 earned the name Ugliest House of the Year in 2021. Each year thousands of homes purchased by Homevestors® franchisees are judged in a contest to find the ugliest house.

Last year's ugliest house was purchased by Bernardo Mazzucco, an Orlando real estate investor who entered the first home he bought as a Homevestors® franchisee.

Mazzucco bought a cluttered building in disrepair and transformed it into a beautiful and welcoming home. This ugliest home transformation is an example of how HomeVestors® work coincides with Habitat for Humanity's mission.

To honor Mazzucco's win HomeVestors® donated $20,000 to Habitat for Humanity Greater Orlando & Osceola County in support of their mission to build affordable homes.

HomeVestors® CEO David Hicks said the two organizations are pursuing the same goal.

"Like Habitat for Humanity, we work in communities nationwide to introduce homes to the market that help maintain an affordable housing supply for buyers," Hicks said. "We were honored to visit Habitat for Humanity Greater Orlando & Osceola County to present this donation."

Bernardo Mazzucco says he is honored to have his project recognized.

"… especially since it brought the benefit of giving back to my own Orlando community," Mazzucco said.





Catherine Steck McManus, President & CEO of Habitat for Humanity Greater Orlando & Osceola County said $20,000 gift will be put to good use.

"This generous gift and gifts like it truly increase the number of people we are able to serve with affordable housing," she said.

HomeVestors of America Inc. is the largest professional house buying franchise in the U.S. with more than 1,150 independently owned and operated franchisees.

Habitat for Humanity Greater Orlando & Osceola County builds and repairs homes that strengthen communities. The organization was founded in 1986 and is one of more than 1,100 Habitat for Humanity International affiliates operating in more than 70 countries, including the United States.