6 First-Time Home Buying Mistakes that Waste Money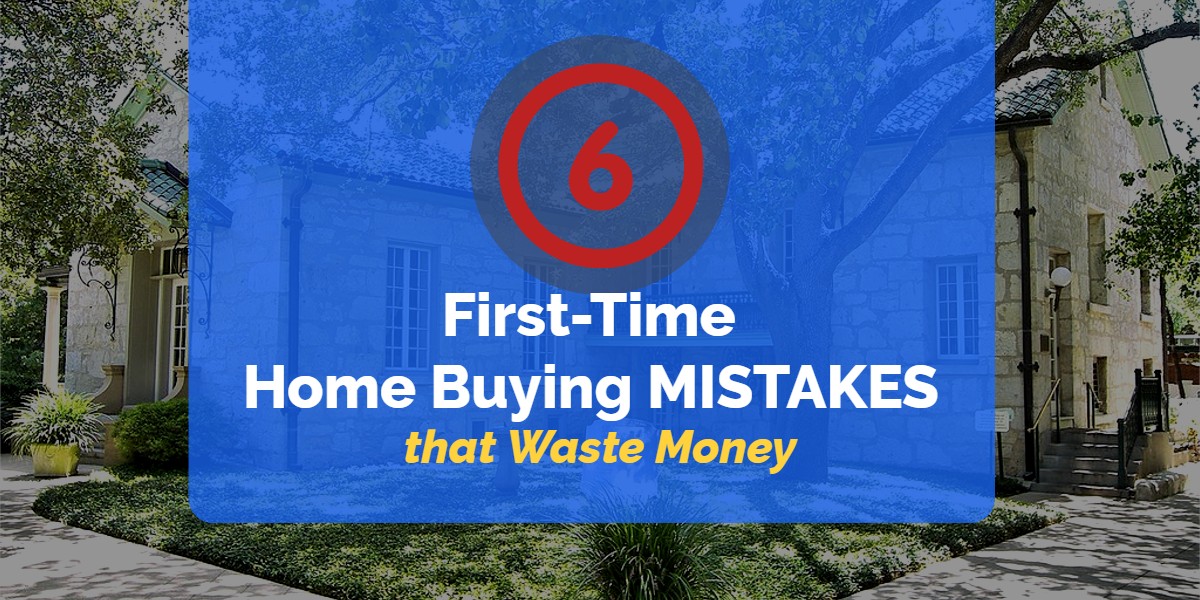 What's the best way to save money on your first home?
Buying a home is not only nerve-racking, but it's also expensive. Especially if you make any of these surprisingly costly first-time buyer blunders.
Mistake #1: Worrying about missing out.
One of the most expensive errors first-time homebuyers make is rushing to buy in a hot market. Here's how it happens:
You fall in love with a great house in a popular neighborhood, where homes are selling fast. Better make an offer on this house today, the thinking goes, before it slips away.
That could be an expensive mistake. Instead, slow down, take a breath and shop around. Your patience will probably pay off sooner than you think, and you'll save money.
Mistake #2: Not knowing your mortgage options.
There are many different kinds of mortgages, each with different pros and cons. The most common types of mortgages include:
• Fixed-Rate Mortgage
• Adjustable-Rate Mortgage
• 1-yr. Treasury ARM
• Intermediate ARM
• Flexible Payment Option ARM
• Interest-Only Loan
• Convertible ARM
• Balloon Mortgage
• FHA Loan
• VA Home Loan
Before you sign, take the time to educate yourself about your options. Taking on the wrong kind of mortgage could cost you thousands of extra dollars a year.
Mistake #3: Too much mortgage.
Before you start shopping for a home, shop around for a mortgage. Smart research now can save you thousands of dollars later.
But don't let the bank tell you how much of a house to buy. If you have good credit, you'll probably qualify for a much larger mortgage than you can safely afford.
To stay out of financial trouble, make sure that the monthly payments (including principal, interest, taxes and insurance) are no more than 25% of your take-home pay.
Mistake #4: No down payment.
Low or no down payment offers can be tempting, but they could spell financial disaster.
If you can't afford a down payment, that's a sign that you can't afford to buy a home yet. Many financial experts recommend waiting until you have saved up enough money to make a 20% down payment.
Not only does that lower the amount of your mortgage payment, but it also helps you avoid the cost of Private Mortgage Insurance, which could be $1,000 a year or more.
Mistake #5: No emergency fund.
Before you buy your first home, you should have an emergency fund in place that can cover 3 to 6 months of expenses. Otherwise, you run the risk of getting in over your head at the first sign of trouble.
If the air-conditioner breaks or the roof leaks, you could find yourself relying on credit cards to pay for basic home repairs, and quickly dig yourself into a financial hole.
Mistake #6: Thinking that owning is cheaper than renting.
In truth, owning a home costs more than renting. When you buy a house, you have to cover costs that you never have to think about as a renter.
Maintenance, taxes, homeowners insurance, HOA fees, lawn care, higher utilities – the list goes on and on.
In the long run, home ownership is smarter than renting, because you tend to build valuable equity. But that doesn't make it cheaper.
To be smart, get a mortgage that's actually lower than your current rent, so you have room in your budget to cover these additional expenses.
Don't make these first-time home buyer mistakes.
Keep these tips in mind when it's time for you to buy your first home, and you could save thousands.