6 Hidden Problems With Older Homes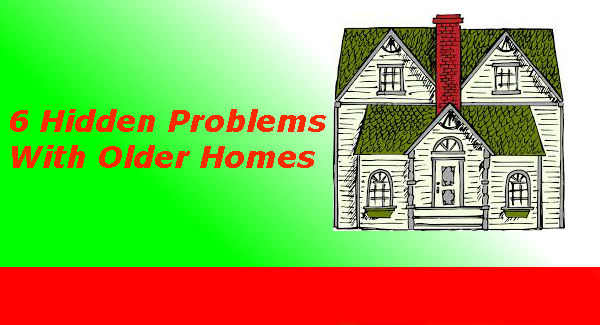 Is that older home you're considering just a charming fixer-upper, or is it a dangerous money pit?
Sooner or later, age impacts every part of a home. Some problems are easy to fix, while others are signs that it's time to shop elsewhere. Here are the six biggest problems with older homes you should watch out for.
Leaky Roof
Most roofs last between 20 and 25 years. If the leak is small, it may cost only a few hundred dollars to repair. But if you have multiple severe leaks, or the roof is nearing the end of its service life, you may need a whole new roof. Costs vary widely depending on size, pitch, and materials. The average owner spends $6,600 on a new roof.
Drafty Windows
Older windows don't just add to your heating and cooling bills. They can also let in moisture, resulting in dry rot and mold problems. If the windows have been leaking for too long, there could be hidden damage to the wall and floor. Nationally, the average homeowner spends about $4,800 when replacing windows.
Foundation Troubles
An older home can have a host of problems with its foundation, and none of them are easy to fix. Poor soil quality, tree roots, excessive moisture and other factors can cause concrete to fail. The average cost of repairing a foundation is $3,800. But this can vary widely depending on the nature of the problem.
Outdated Interior
By definition, older homes aren't up-to-date. The paint colors, cabinets, countertops and other interior details will need redoing to a greater or lesser degree. The average cost of painting a home interior in $1,700. If old lead paint is present, it will have to be removed, which can easily double your cost. Scraping a popcorn ceiling typically costs $1,400, or more if it contains asbestos.
Asbestos
Commonly used as insulation and fire retardant in homes built before the 1970s, asbestos can be difficult to detect. If it is contained, the EPA often recommends leaving it alone. Removal costs vary widely, with an average of $1,700 per project.
Old Plumbing
After years of constant use, older plumbing can suffer from low water pressure, corrosion and leaks. Left unchecked, these can produce much bigger problems in the long run. The cost of demolishing and replacing plumbing pipes depends on a number of factors, but most homeowners spend between $1,000 and $1,900.
Should you buy an older home? It depends on the quality of the original construction, and how well it's been maintained over the years. It's always smart to hire a qualified home inspector to do a thorough inspection before you make an offer on any property.