How to Babyproof Your House — 5 Can't Miss Tips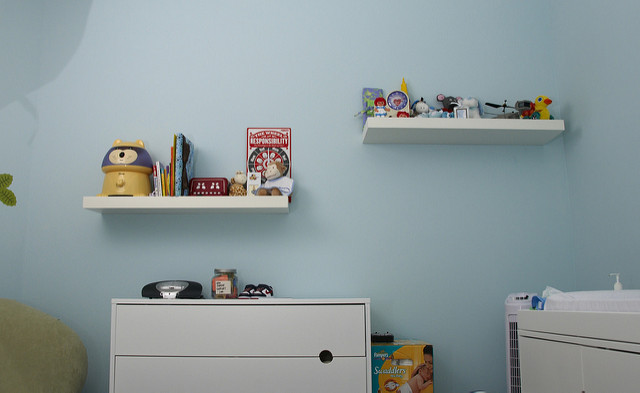 Photo courtesy.
There's no feeling as amazing as bringing that little bundle of joy home from the hospital.
There's also no feeling quite as worrying as wondering how you're going to keep your baby safe in a house full of power outlets, stairs and sharp corners.
Baby proofing has morphed into its own industry, with oodles of fix-alls and must-haves for new and expectant parents. But what do you actually need? What actually works? The good news is that many of those gadgets aren't necessary — the most important thing you can do to babyproof your home is to actually rearrange in order to accommodate the child — and in other cases, the helpful gadgets you need won't break the bank.
Here are 5 can't miss tips for babyproofing your new home:
First off, take care of the easy stuff. Turn down your water heater to less than 120 degrees F, buy outlet covers for your power outlets and get baby gates for the head and foot of your stairs. Almost every parent needs these.

Next up, begin to go room-by-room, evaluating your home for chemical hazards (cleaning supplies, vitamins, prescriptions); obstructive hazards (stairs, coffee tables, hard floors); and hazards if your baby were to interact with them (cords on blinds, toppling bookshelves, toilets).

In a number of cases, you will be able to rearrange your home to accommodate your baby. Move the furniture with the sharp corners out of harm's way, move cleaning supplies to a more secure cabinet that only adults can reach.

In a number of other cases, you might need a gadget to fully babyproof the area. Buy soft covers for sharp furniture you can't move out of harm's way, buy cabinet latches if you're unable to move chemical hazards out of reach, buy anchors to secure bookshelves to the wall. Get a nice soft rug for hard floors that could be an injury hazard if the toddler were to slip. Buy a toilet latch, and replace your Venetian blinds with cordless blinds.

Lastly, pay particular attention to some special areas of the house. If you have refrigerator magnets, those could pose a choking hazard. Put those into storage for now. If you have low windows, you'll want to obstruct access to those windows or lock them entirely. Keep lamps out of reach — the bulbs on these can heat up and burn a curious child.
As you walk through your own home and assess potential dangers, there could be hazards that we didn't list above. Take your time and pay close attention to anything that could be dangerous if a child were to interact with it. Safety comes first — when in doubt, err on the side of making it safer.
By spending the time to assess your own home, you'll be able to bring home baby without the worry of hidden dangers around the house.